You might have noticed that we're looking a little different. That's because we've refreshed our entire look and feel; from a tweaked logo to new iconography, premium imagery and a shiny new website. Our new branding has been carefully considered to reflect our vision, our values and put the limelight on the people who make us truly special – our amazing teachers.
Why the change?
Our vision is a world where the physical and emotional development of every child is fully supported and nurtured from birth. And it's the bond between our teachers, carers and their little ones that makes this a reality. They're at the centre of everything that we do, and our new branding works to reflect and support this relationship.
We know that teaching your baby to swim or even introducing your little one to water can be daunting, which is why we want to support you every kick and stroke of the way.
For the first time ever, this is not only achieved in our lessons - our new website now provides endless advice on baby swimming and development. And supporting this content is Water Babies Learn, a series of how-to videos to help you introduce your baby to the water. Now anyone can build their baby's water confidence, wherever they are in the world.
Our iconography is bold and impactful, reflecting our spirit and energy. Our new tagline 'Learn for Life', truly sums up the importance of what we do and the difference we make to the lives of our carers and their little ones. We've replaced illustrations with captivating photography that really shows what happens in our lessons. Our new, mobile-first website brings us into the modern day, giving our audiences a platform that's easily navigable and clean, with the simple functionality that they deserve.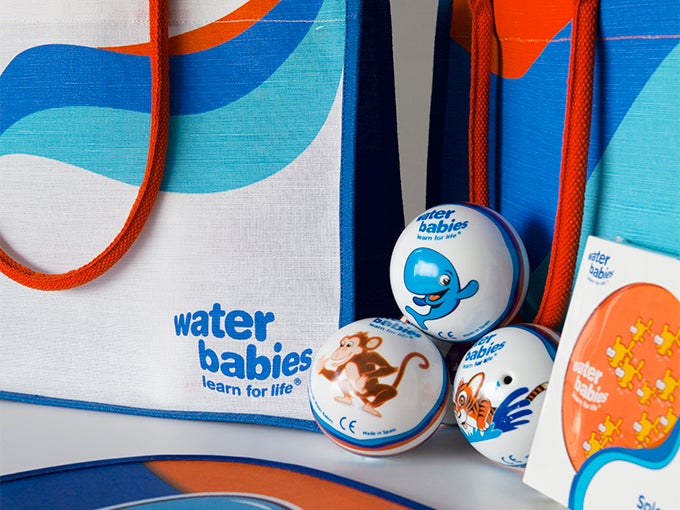 Why now?
 We've come a long way in the last 17 years. From one couple's determination to run baby swimming lessons in their local pool, we've now grown to having franchises in the UK, Ireland, Canada, China, New Zealand and The Netherlands.
And to represent how far we've come, we've evolved to better represent our values, personality and the world-class experience we give to each and every one of our customers. 
Same values, different style
We may look different and sound a little different, but the core of what we do has stayed the same. We've simply brought our amazing teachers, the skills they teach, our expertise (and silly side) to the surface. And at the very centre, is that relationship between our teachers, carers and babies.
We hope you love our new look as much as we do.