I've always had a passion for swimming! I started swimming at 4 years old and I continued until I was in my teens. While some of my friends went down the competitive swimming route, I decided to get involved in teaching. I began my training as a swimming teacher at age 14 and at the same time trained to be a lifeguard. I taught in my local pool throughout my school and college years and even when I started working in an office job!
When I had my first daughter Jessica, I wanted to get her swimming as early as possible and that was when I heard about Water Babies. I knew at the time I wanted a career change and my mam suggested going back teaching swimming. By fate, only a couple of weeks later, she happened to be listening to the radio and Carol McNally, owner of the franchise in Ireland East, was being interviewed about Water Babies and spoke about always being on the lookout for good teachers. It was definitely a sign so I sent my C.V that same day. I was invited along to watch some classes and as soon as I saw the classes I was hooked! Watching the lessons from poolside, I was amazed at what the children were capable of at such a young age and wanted to be part of it. Since then, I've never looked back.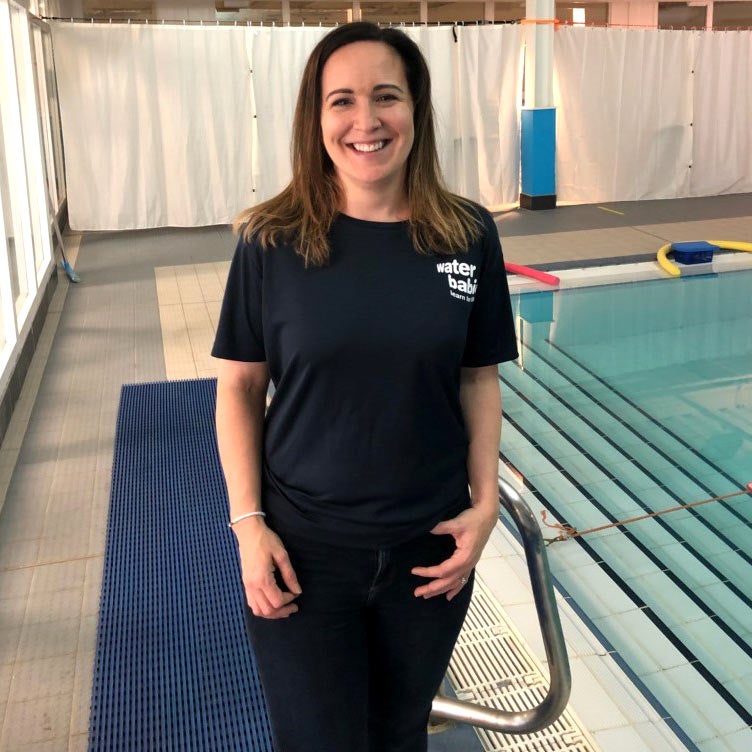 I have since gone on to become a mentor for new teachers and alongside teaching, I am now am the Aquatics Coordinator or the Dublin, Meath, Louth and Kildare office. This involves planning and delivering training on new lesson plans, policies or procedures, keeping all training records up to date and also supporting the new teachers on their training journey. It's a very intensive but extremely worthwhile process; seeing teachers inspired, nurturing their skills and watching them grow in confidence.
I love teaching for Water Babies and there are lots of things that bring a smile to my face in my job. The look of wonder and amazement on the babies faces in their first lesson as they splash the water and kick their legs. Watching parents and babies bonding in the pool and enjoying their swim together. Seeing little ones come through the other side of a wobbly period and start loving the water again. Listening to the many stories my toddlers tell me - their imaginations are amazing
I've now taught for Water Babies for seven years and I love my job as I get to do what I love to do which is to inspire a love of swimming in children. Being able to swim is such an important life skill and I love to think that I play a small part in children obtaining this skill which they will have for life. I have so much fun in my classes it doesn't feel like a job at all!